Personalized Home Decor Accessories
Do you want some home decor items that totally match your house or match the season or are just for something different for a while? If they are going to be temporary, then they better be cheap right? But they also better look good – OK! How many glass bottles and glass jars do you use each year? Of course, you recycle them, so they are not just being dumped but what about using them as cheap home decor accessories to change the look of your home for as long or short a time as you want? No artistic skills? No worries. There are lots of videos and tutorials on line to show you how to do this quickly and cheaply with great results that will look as if you spent a fortune on designer accessories. You can make decorative vases or candy containers for Christmas. Some designs are so easy, a child could make them and they will still look good: others will need a bit of time and care and will give totally amazing results.
DIY Recycled Glass Bottle Art
The average American household disposes of approximately 480 pounds of glass per year. Recycling is of course highly recommended instead of sending them to a landfill but better still, why not re use them? If you cannot re use them for their original purpose, there are many creative and fascinating ways to reuse glass bottles that will be useful and decorative for your home. Use your favorite craft or learn new and interesting ways to turn used glass bottles into spectacular art pieces or useful containers. When they are first emptied, they may not look like art pieces, but a little thought can change that. You can just fill them with colored marbles or glass shapes, paint them, tie a ribbon or raffia around the neck, add a small shape, even glue beads and other items to them. Some of the simplest ideas are the most attractive.
Below are some creative ideas for recycled glass bottle art to get you started on reusing all those glass containers in your fridge and cupboards that may get dumped when they are empty. Some ideas are really quick and easy, others will take some time and may need equipment. Choose what you can do. Mix and match ideas to make something unique to you and your home.
Liquid Dispensers
It is easy to turn almost any bottle with a round neck into a liquid soap or lotion dispenser by simply purchasing a pump that will fit. Get creative and turn your dispensers into show-stopping gifts for anyone on your holiday list or to decorate your bathroom shelf. You can decorate your glass dispensers with beads, spray paint, ribbons or anything else you find beautiful. Get onto the internet and browse through a myriad of ideas on how to decorate glass containers.
Stunning Lights
Turn clear glass bottles into stunning lights for Christmas or dinner parties. Simply pop a string of fairy lights into a few empty bottles to turn your home into a fairy castle.
Beautiful Vases
Empty glass containers of all shapes and sizes make beautiful recycled glass bottle art vases. Get creative with mosaic tiles and clear glue.
Color clear glass containers from the inside out by pouring a small amount of paint into the bottles and swishing it around to cover the inside surface. Empty the excess out and allow them to dry upside down. Get several similar containers, paint them and add a single letter to each one to spell out a word, such as "Home" or "Love". You can paint several bottles in different shades of the same color for a stunning presentation. Once dry, fill with water and display fresh flowers in them. A great idea is to tie three square-shaped bottles together with a ribbon, string, or jute for a really unusual three-dimensional table centerpiece. For
Hallowe'en, paint the bottles orange and add a pumpkin outline.
Holiday Décor
With some Epsom Salts, Mod Podge, and paint you can create unique holiday décor. Paint glass containers white, sprinkle with Epsom Salts to form a bubble effect and fill with fresh wintergreen pine branches, glittery leaves, gold or silver candles, or anything else that takes your fancy.
Candle Holders
Empty glass bottles make gorgeous candle holders. Simply cut the base off and place over tea candles for an impressive outdoor lighting idea. They also make excellent showpieces when displayed on a mantle. You can use colored glass bottles just as they are or decorate clear ones to match the theme of your holidays. For example, you can decorate them with ribbons, and bells in red, green, and gold for Christmas. You are limited only by your imagination. For a Moroccan theme decorate them with gold foil on a red or midnight blue painted background.
DIY Candles
Slice a wine bottle in half, fill with melted wax and add a wick. Add fragrance if you like with a few drops of essential oils for a delicious smell. Depending on the fragrance you use, for example, lavender, you can paint a lavender flower on the glass or glue a dried sprig of lavender onto the surface.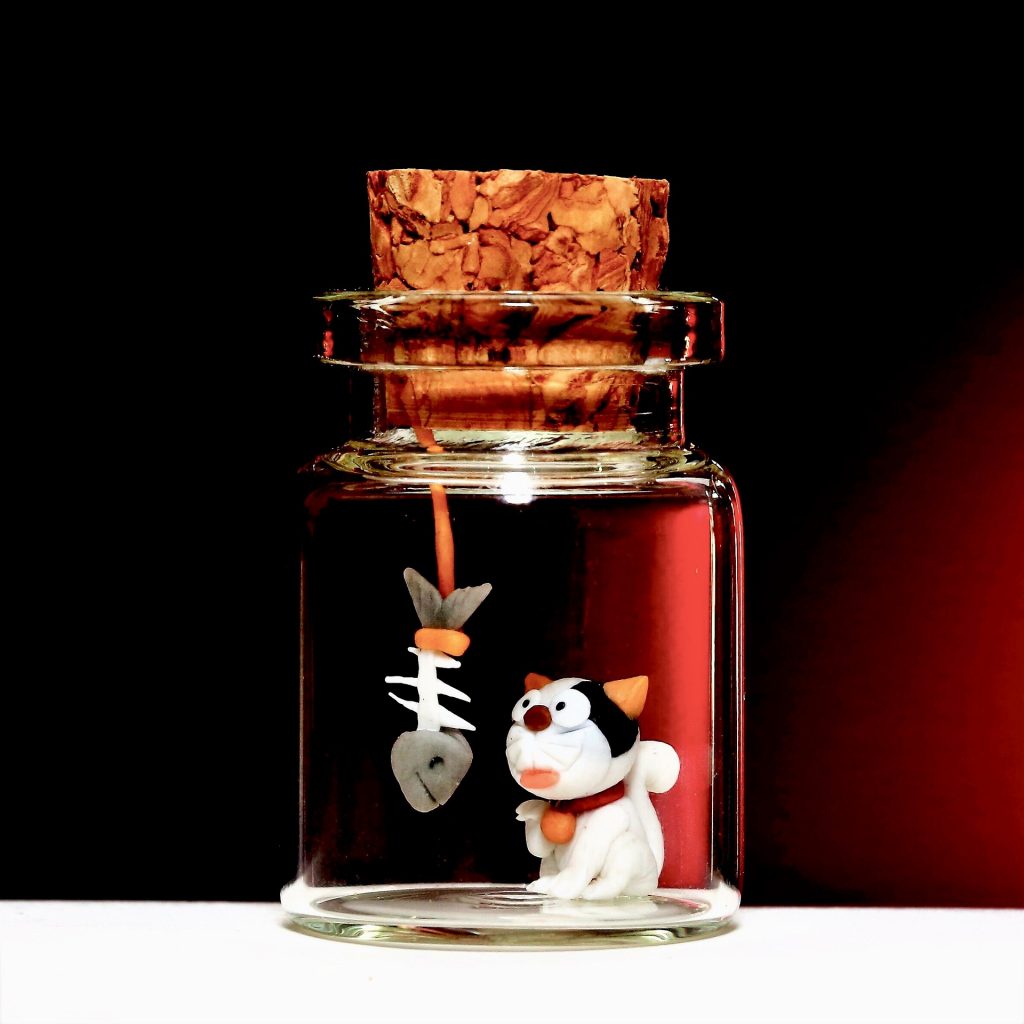 Magnificent Wine Bottle Fence
Save up your wine bottles and make a fantastic recycled glass bottle art fence for your garden or patio. Just drill holes through the bottoms and insert a rebar. Construct a sturdy wooden frame to hold the rebar rods with strings of bottles. During the day the sun will cast a beautiful rainbow through the colored glass bottles.
Whimsical
Your creations can just as easily be whimsical to suit the season or you can get the children to decorate something for you.
These are just a few of the hundreds of creative ideas you can use to turn empty glass containers into wonderful works of art or useful items for your home. Every empty glass container could and should have a second life, why not make it one that is a thousand times more beautiful than the last one?