Home Beauty On A Budget
Wall mirrors are a great way to enhance the beauty of your home without spending a fortune. Nowadays, many people opt for decorative wall mirrors that reflect their personality: and a home with beautiful wall or ceiling mirrors will definitely make a difference to the atmosphere of your living room or any other room. Decorative  mirrors are designed in different styles, shapes and sizes. But before going shopping make sure that you have decided where you want your mirrors and what you want to use them for and take a look at the mirrors that you like so that you get the best mirror or mirrors for your home, your needs and your personality.
Shape
Wall mirrors are so versatile and come in many different shapes. They can be really small, full length or very large, plain or ornate, decorated or natural. They can be square, rectangular, triangular, round, oval, convex or concave or arched, with evenly sized borders, or the mirror can be a small part of a large piece of decorative wall art. They even come as mirrored wall panels, so you could erect a full wall of mirrors
perhaps for your own personal dance or keep fit studio. You can also create your own mirror from many smaller ones if you want something either totally unique or else in a style you love but cannot perhaps afford to buy. The color can be anything you like, from gold, silver, metal to wood or plastic and the mirror part does not necessarily have to be glass, it can be of metal.
Uses
Mirrors are not just useful in the entrance hallway for checking your hair is tidy before going out, or as a vanity area in a bedroom or bathroom! They can be used to create space in any room: by reflecting the room, it can look bigger and airier. They can also be used to set off a particular area of a room as something separate, a reading nook or wall display, for instance. Mirrors can form a focal point in the room, drawing attention to a particular style or layout and they can be set out on the wall in many different sizes and shapes to form a unique, artistic display, perhaps in place of a piece of artwork. Used as wall accents, they can give new life to your dull walls and add color to the place. You can place them anywhere in the room and make the atmosphere beautiful and pleasant. They are usually available at affordable price tags and you will be amazed by their beauty and elegance once you get them in your home.
Checking The Mirror
Before finalizing the style and shape of the mirror you want to buy, go through the mirror closely, especially if you are buying one second hand or in a sale. Look into the mirror, to check there is no discoloration, rusting, or foxing, a sign that the finish or silvering on the back, that turns a sheet of glass into a mirror, is wearing away. Check the back of the mirror to know whether there is any crack or any distortion on the back side. Some mirrors are manufactured with excellent quality and you don't need to worry about quality even after it gets past a few years of usage. You can also go for a brand name which is well known. There are various types of decorative wall mirrors available on the market with different shapes, sizes, styles and colors.
Today, there are plenty of companies who offer quality decorative wall mirrors at affordable rates. You can purchase them from online stores as well. The styles and shapes of these decorative wall accents vary according to the taste of people and the requirement of individuals. For instance, if you have a small sized room then you will get a wall hanging mirror which will make the room look spacious. In case you have a large room, then you can go for a big wall hanging mirror which will create a fantastic impact on the walls and on any visitors to the room.
As there are a variety of styles and shapes to choose from, it is important that you buy a decorative wall mirror according to the size of the wall. In case you have a large room and you need to hang a big decorative wall mirror then you could place it in a central location so that it can be seen from all sides. This will give you a complete beautiful ambience in your home.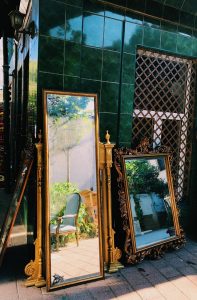 When you purchase a decorative wall accent such as this then you should choose a wall which is not exposed to sunlight or any glaring light. For instance, in one bathroom, the window faced south and the shaving mirror on the wall reflected the sun for much of the day, leaving a scorch mark on the wooden window surround. There could even have been the possibility of a fire created from that.  Ensure that the wall mirror is placed in a spot where it receives little to no sunlight but in an open area or an area which receives good daylight.
These days, a lot of people prefer the use of these decorative wall accents in their bedrooms, bathrooms and living rooms. Apart from giving beauty to the room, they also help in boosting the functionality of a dressing room. In other words, if you have a mirror placed in your bedroom then you will be able to groom yourself properly without having to go to the washroom. Also, there are a number of decorative wall pieces available in the market which can be used as wall clocks, and if you want to further boost the beauty of your house then you should consider buying decorative wall mirrors.
Here is a link if you would like to try crafting your own mirror using diy dollar tree mirror wall decor.
And here are some diy mirror frame decorating ideas